Lightroom preset is simply a file that contains the different values of those sliders under the Develop module in the Adobe Photoshop Lightroom program.
Making your own Lightroom preset allows you to re-use the same treatment that you did with one photo to many photos in the future. This is very handy tool especially for those who are working in a team who wanted to have similar treatment across photos saved remotely and elsewhere.
Here's how you create your own Lightroom preset:
Step 1: Finalize the slider values
Under the Develop module, select the photo where you have set the desired treatment. Finalize these values in each slider on the right side of your screen. There is no Finalize button, it simply means that you take a final look at your desired treatment and leave it there. When you make a preset, all these values will be saved in one file.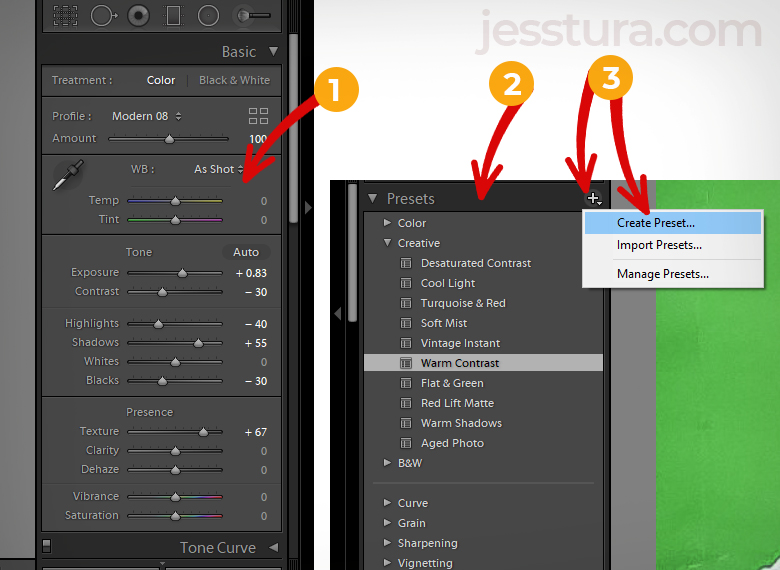 Step 2: Go to the Presets panel
Still under the Develop module, go to the left side of the screen and look for the Presets panel. You will be able to see the plus sign. It is pointed by circle 3 in the image below. Please refer to the image above labeled #2.
Step 3: Click the Plus Sign
Click the Plus Sign and select Create Preset. Please refer to the image above labeled #3.
Step 4: Give your preset a descriptive name
A window will appear with the first field asking you to type your preset name. The name of your preset should describe the final look of the image after the preset is applied.
Preset name can be "Bangkok Summer" or "Jess Christmas at Wells 2030". With preset names like these, it will easily remind you what the preset can do or for which event should it be applied for.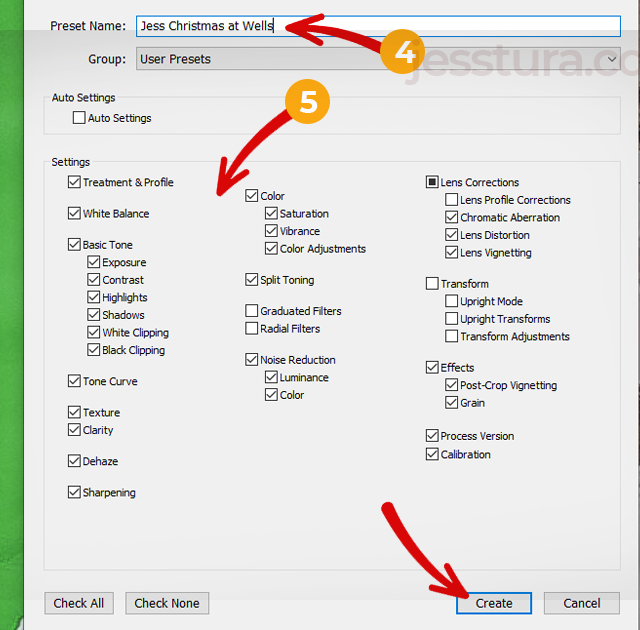 Step 5: Select the Properties, then click Create
From the same window, check or uncheck the properties that you want to be included in the preset, then click Create.
That's it! You now have your own Lightroom Preset.
Click this link to learn how to use a Lightroom Preset.
If you downloaded an LR preset, check this tutorial on how to import or install an LR preset to your Lightroom.